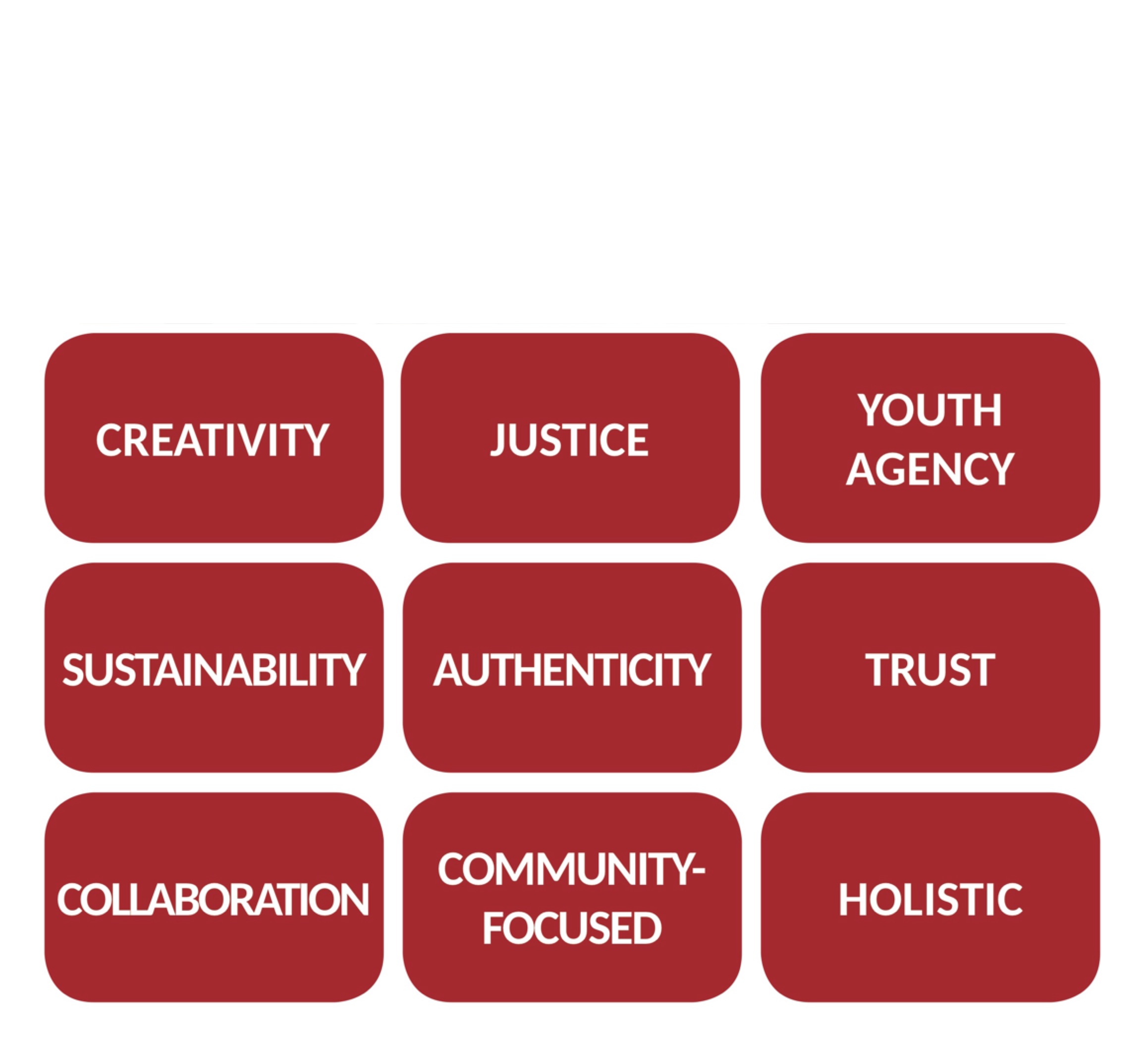 Mission: A place where teens become urban leaders and residents catalyze community transformation.
Vision: 6 PIC is an evolving youth-led, youth- driven community center that is a catalyst for justice throughout the city. We equip youth for career success, civic engagement, and creative expression while supporting resident-empowered change.
How did we get started?
Six Points Innovation Center (6PIC) is a renovated 4,000 square-foot building located at 3001 Meadowbridge Road in Highland Park that is a safe, fully-programmed youth center where neighborhood youth have access to innovative programming in advocacy, art, green construction, education, career success. history and healing. The multiple 6PIC program providers who have been engaged for more than six years in the Highland Park community, work together under one roof to ensure 6PIC's mission through the City Builders model.
Funding for the renovation of the Boaz & Ruth-owned building was made possible by a Community Innovation Grant from the Robins Foundation, awarded in 2015, support from Virginia Local Initiatives Support Corporation, the Community Preservation and Development Corporation and construction was overseen by Tekton Builders. The space was designed by neighborhood youth with the assistance of volunteers from Baskervill, Glave & Holmes, and BCWH Architects.
HOURS OF OPERATION
Monday-Friday
Office Hours
9:30am-5:30 pm
Program Hours
3:00-7:00 pm.
After-hours and weekend operations will be specific to youth programming and events.
Phone: 804-321-2789
Email: 6pic.rva@gmail.com
Supplemental Support
6PIC also houses a Culturally Responsive Resource Management program that functions similar to case management. Youth can meet with the Resource Mentor to set goals, receive needed referrals or vent about their day.
We have group based mentoring via our Kings of Loyalty and Sister Circles programs.
We provide snacks and meals thanks to Generation Z's Youth Feeding Program, Feedmore and other local restaurants.
6PIC Founding Program Providers
Storefront for Community Design
Storefront pairs community design needs with volunteer design professionals and will spearhead architecture and design education with the youth at 6PIC. Through shared leadership, Storefront also spearheads the 6PIC collaborative.

Jackie Washington 6PIC Director jackie@storefrontrichmond.org
Saving Our Youth
Saving Our Youth seeks to keep youth on track toward a positive future in school and in the workforce. At 6PIC, Saving Our Youth offers high school and college assistance programming for youth in addition to employment assistance and professional training.
Jo White, Executive Director joeloisewhite@gmail.com
Groundwork RVA
Groundwork RVA works with Richmond youth to design and build vibrant community spaces. At 6PIC Groundwork RVA's Green Team and Green Workforce programs will connect youth through service and green-collar job training with the natural and urban environment.
Rob Jones, Executive Director rob@groundworkrva.org
ART180
ART180 creates and provides art-related programs for young people living in challenging circumstances, encouraging personal and community change through self-expression. At 6PIC, ART180 works with local artists to provide pop up workshops that allow young people to discover ways they can positively engage in and influence their surroundings.
Taekia Glass, Program Director taekia@art180.org
Additional Program Providers
Community 50/50
Community 50/50 leads 6PIC's community engagement and outreach. It also brings the Lyrics and Beats program where youth have the opportunity to create music, understand lyrics, discuss life skills and understand the business side of the music industry.
Zenobia Bey 5050volunteer@gmail.com
I AM MY LIFE
I AM MY LIFE offers the Blackademic In Residence. Click "Learn More" for a full description of this partnership.
Chaz Barracks cabarracks@vcu.edu
Untold RVA
Untold RVA uses multimedia street art to surface hidden histories about self-determined Richmonders. Youth are able to work with Untold on projects.
Free Egunfemi joinus@untoldrva.com